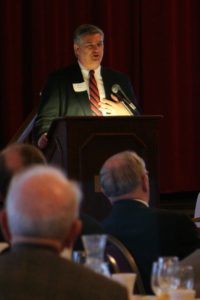 Strategic Advisor to Executives and Leadership Teams | Family Business Consulting | Executive Coach | Public Speaker
Passionately helping Executive Leaders discover how to sleep at night, through personal clarity and problem solving as their Business Advisor and Consultant.
Early in his life, Steve discovered he was unsettled with the status quo of how, and why businesses and people were led by others.  He repeatedly observed a surprising phenomenon: the most successful employees weren't necessarily the best leaders.  In fact Steve discerned it rare to find any leaders better than great, and Steve's path was born.  His passionate drive has traveled over 40 years, to find and develop high performing Rare Leaders, leading highly successful organizations.  And when Steve found them, he uncovered the second phenomenon: Successful leaders don't sleep very well.  Rare Leaders have discovered Steve's secret sauce to help find clarity, develop a plan, and become accountable towards success, which helps them to sleep through the night…and together they are changing the world.
These leaders will tell you Steve has this rare blend of an entrepreneur driven to growth and achievements, coupled with a charismatic spirit, warmth, patience and confidence of the trusted friend you always cherish.   As President of Ovation Leadership, Steve is active as a Trusted Leadership Advisor in visioning, conflict resolution, strategic planning, transition planning, dynamics of family business, organizational change, teams, and advising on the intensity of people strategies. As their confidential and discreet strategist, Steve advises company leaders in a myriad of business decisions, leading to a remarkable track record of their continued growth and success.
After a successful corporate leadership career culminating at Baird, first as CHRO, and then Director of Wealth Management products and services, Steve left to build Ovation Leadership in 2001. Steve has served on the boards of several private, public and charitable organizations currently serving on the Boards of the Madison Funds, Lange Bros Woodwork Co, Forward Service Corporation, and recently with Stanek Tool Corporation, Big Brothers Big Sisters, and as an Elder with Crossroads Presbyterian Church.
He shares his expertise regularly in public speaking engagements.   Through extensive study and interaction with business leaders Steve has developed his theory of the Rare Leader™, captured through 12 competencies and behaviors of leadership. His new book, "INSOMNIA – keeping leaders awake" is targeted for release soon.