I am often asked to share my expertise on a variety of topics. Some presentations are appropriate to share with new audiences, and some are tailored to a specific event or organization.  Each topic can be altered to fit your need as either a keynote presentation, an interactive audience seminar, or an in-depth workshop setting.
I have also been included as a "certified strategic credit" speaker at conventions/conferences, lunch speakers, keynote addresses, and within corporate training and development agendas.
I would be delighted to talk with you.
New! DiSC for Teams Learn more about behavior style…how to increase effective relationships.
New! DiSC for Sales Increase sales results with better customer relationships.
New! Five Behaviors Of A Cohesive Team Based upon Patrick Lencioni's best selling book, "Five  dysfunctions of a team". A captivating 2 hour overview, or a 7 module Leadership Team series.
Leadership INSOMNIA Helping Leaders sleep through the night.
Recently: Are you an HR Pro? 25th Wisconsin SHRM State Conference, – "Discover the Rare Leader™"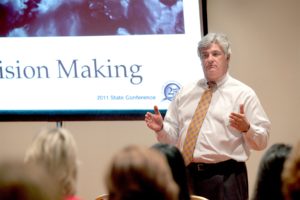 Some recent presentations include;
BizTimes Expo
State Conference – WSHRM
Wisconsin Solo and Small Law Firm Conference
Association of General Contractors – Annual Safety Conference
The Rare Leader
Annual SIFMA conference in Fort Lauderdale
Love, Power & Money – Family Business Between Generations
7 Habits of Successful Family Business Successors
What Would You Say…getting your point accepted in 3 minutes or less
Why Sales People Fail
Making Human Resources Strategic
Leading With Integrity
Applying Brand to identify Key Initiatives to drive Team Accountabilities in a growth environment
Establishing Trust in your Team
Assessing The Human Resources Function In Your Company
Effectively Working With A Team
So… you want to enjoy work? Is it a job, is it a career, or is it your Vocation?
Keeping Your Faith Authentic On Monday